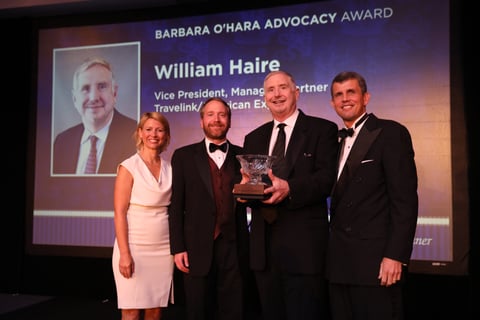 Travelink, American Express Travel, is pleased to announce Vice President and Managing Partner, William Haire, has been awarded the Barbara O'Hara Advocacy Award.
The Barbara O'Hara Advocacy Award is awarded to two ASTA members who have gone above and beyond the call of duty in terms of their support for ASTA's advocacy initiatives, grassroots campaigns, and ASTAPAC fundraising. Recipients are selected by ASTA staff members in consultation with award sponsor Sabre, and the ASTA Government & Political Affairs Committee
Regarding the award, Haire accounts, "The Travel Advisor is key to helping the consumer navigate the myriad of options and suppliers in the travel industry today. We advocate for all agencies and agents on the federal and local level to make sure the consumer is treated fairly without additional indirect taxes being leveled."
Pictured left to right: Samantha Brown, Canadian Travel Blogger; Eben Peck, Senior Vice President, Government & Public Affairs, American Society of Travel Agents (ASTA); Bill Haire, Vice President, Managing Partner, Travelink, American Express Travel; Michael Hanson, Senior Director / Government & External Affairs, Sabre.