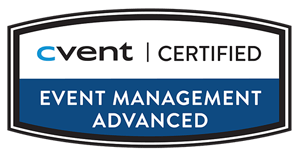 Travelink is pleased to announce Lindsay Buchanan, Meeting Planner/Group Manager, received her Cvent Event Management Advanced Certification at the 2019 Cvent CONNECT Conference at MGM Grand in Las Vegas, NV.
Lindsay has been an avid user of the Cvent Platform for over 12 years with experience in Event Management, Abstract Management, Strategic Meetings Management, Membership Management, Sourcing Venues, as well as CrowdCompass.
The Advanced Certification allows the user to be able to demonstrate their knowledge, expertise and proficiency in leveraging the more advanced features in the Cvent platform. Some of these areas include Event Budgets, Speaker Management, Travel Management, Multi-Language Events, as well as complex event tools like advanced rules, custom data tags, and much more.
For Travelink clients, Lindsay uses Cvent's event management, supplier network, and membership management tools for about 25 groups and meetings each year. Utilizing Cvent, Lindsay is able to modernize the methods Travelink handles our event management and as a result we are more efficient in finding venues, planning the events, engaging attendees, measuring the impact of our events, and much more. Contact us today for help planning your next major conference or meeting and put our expertise to work for you.