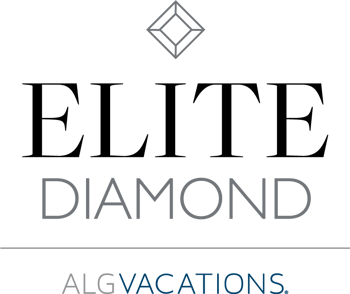 ALG Vacations® (ALGV), the nation's leading leisure tour operator and part of the Apple Leisure Group family of companies, has honored Travelink as a 2022 ALGV Elite Diamond travel agency. This highly coveted honor is based on achieving exceptional sales in 2021 with ALG Vacations, whose highly respected brands include Apple Vacations, Funjet Vacations, Travel Impressions, Southwest Vacations, Blue Sky Tours, and United Vacations. Less than 10% of travel agencies nationwide selling leisure travel have been honored with the ALGV Elite distinction, which consists of several tiers: Sapphire / Sapphire Select, Emerald, and Diamond / Diamond Preferred.
"I would highly recommend agencies that have earned the status of ALGV Elite to any traveler in the market for a domestic or international vacation," said ALGV's Jim Tedesco, Vice President, Sales. "Achieving the required level of sales to be an ALGV Elite agency is a strong indicator that the agency not only is highly familiar with the ALG Vacations brands, but offers superior service, knowledgeable and experienced travel advisors, and a high percentage of client satisfaction," he added.
ALGV Elite agencies are rewarded with a variety of benefits and perks from ALG Vacations, including in-resort training, exclusive promotional codes to pass on to their customers, and access to a VIP support desk, enabling them to deliver superior service to the end-consumer.